Just Enough Pumpkin to Qualify as Pumpkin Muffins
Pumpkin lovers wait all year for fall when their secret crush flavor is available everywhere. These yummy pumpkin muffins strike the perfect balance between a normal muffin and an all-out pumpkin celebration. They have the essence of fall flavors: cinnamon, ginger, nutmeg, and pumpkin but the non-pumpkin fans in my house still love them. There's only a half cup of pumpkin which is just enough to provide the burnt orange color and up the nutritional profile, but not enough to make pumpkin-haters rebel.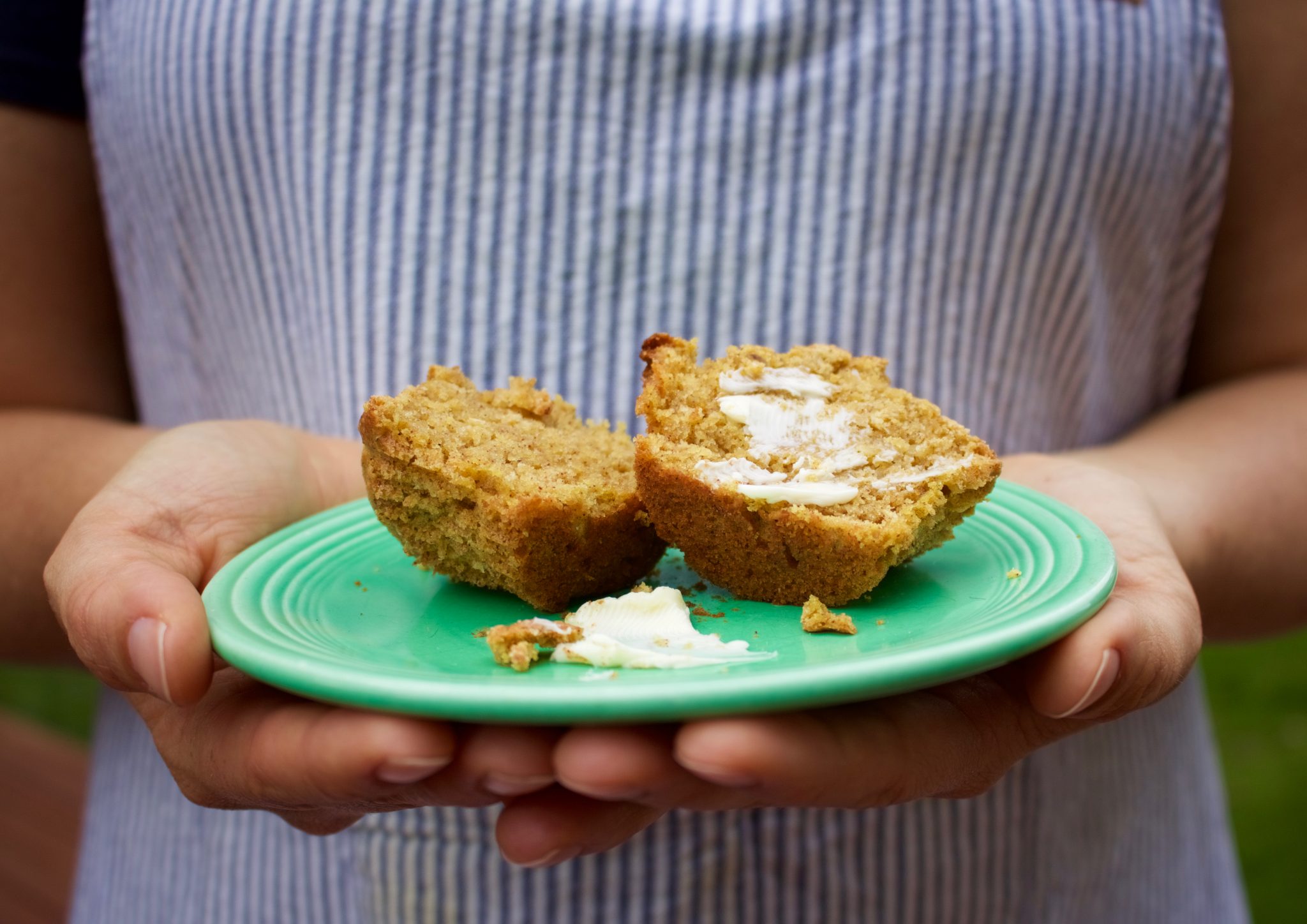 Be forewarned: this muffin might look like a bakery style sugary nightmare, but it's not overly sweet. I've made them using 1/2 cup sugar (good, nowhere near too sweet) and I've made them using 3/4 cup sugar. If you want to round out a Thanksgiving spread, use 3/4 cup sugar and go wild with the crumb topping. If you want an easy, portable, medium-healthy muffin, use 1/2 cup sugar and forego the topping. About the topping – there's a half cup of oats in it which cleans it up a little bit, but there's also a stick of butter …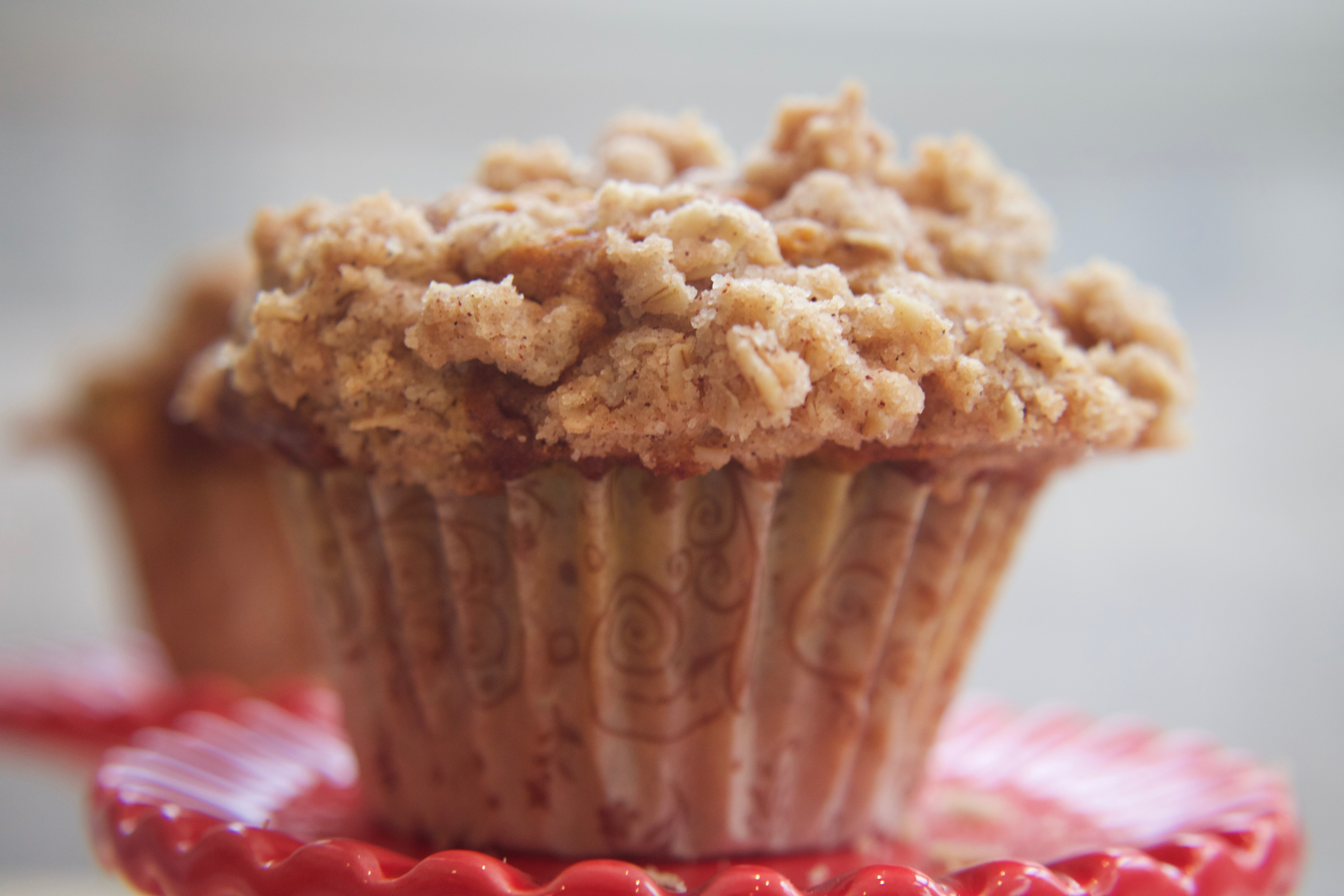 Bakery Style Pumpkin Muffins Tips and Tricks
Work with room temperature ingredients – set out your egg, butter, milk, an hour or so before you begin.
Preheat to 375 instead of 350. Some sources recommend going up to 400 then reducing to 375 when you put the muffins in.
Have your muffin tin completely prepped and the oven preheated before you combine the wet and the dry ingredients.
If you are using the crumb topping have it ready to go.
Fill the tins ALL THE WAY TO THE TOP. Forget about the 2/3rds or an ice cream scoop full rule.
You'll get about 8 muffins if you fill to the top. Put water in the empty tins to protect your pan from warping.
At the very last-minute, combine wet and dry ingredients – it takes about 14 turns of the spoon – fill the tins and immediately put them in the oven.
You want all the gluten formation/rising action to take place in the heat of the oven, which is why you don't mix wet and dry until the last-minute and why you don't over stir.
Yes – the above tips apply to all muffins, not just these pumpkin muffins.
If you have whole nutmeg, grate it and use it. It's worth it. Find it at Amazon. You'll need a grater, too.
If you have real vanilla bean, use it.* (See Amazon link and explanation below.)
In the spirit of full disclosure, anything that takes you to Amazon is an affiliate link which means I may get a commission if you decide to buy. I prefer to recommend Amazon products I have used – but sometimes those products are "temporarily unavailable", in that case, I link to what I would buy.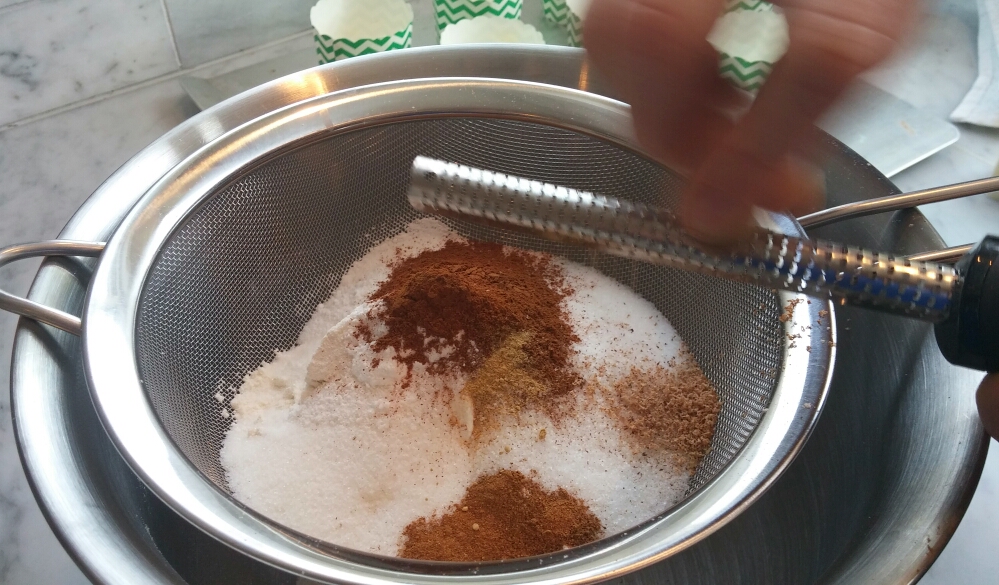 Pumpkin Muffins
Prepare the muffin tin and preheat the oven to 375. Make the crumb topping if using and set aside. Mix/sift the dry ingredients in a large bowl. Mix the wet ingredients. Pour the wet into the dry and mix until just combined. Fill muffin tins, sprinkle with the crumb topping and bake at 375 for 30 minutes.
Ingredients
Dry Ingredients
1

c

all-purpose flour

1/2 - 3/4

c

sugar

the extra 1/4 cup makes them quite a bit sweeter

1/2

c

quick-cooking oats

2

tsp

baking powder

2

tsp

cinnamon

3/4

tsp

ground nutmeg

1/2

tsp

table salt
The Wet Ingredients
5

T

melted butter, cooled

1/2

c

pumpkin puree

1/2

c

milk - % fat is up to you

1

egg

1

tsp

vanilla extract or scrapings of one vanilla bean
The Crumb Topping
1

stick

melted butter

1/2

c

all-purpose flour

1/2

c

quick-cooking oats

3/4

c

sugar

1

tsp

vanilla extract of scrapings of one vanilla bean

1

tsp

cinnamon

pinch

of salt
Instructions
Set out the cold ingredients and let them come to room temperature. Room temperature ingredients mean maximum effect (rise) in the hot oven.

Preheat the oven to 375 and prepare your muffin tin with 8 liners. Put water in the empty tins so your muffin tin does not warp in the oven.

Prepare the optional crumb topping if you are going to use it. Set it aside. It will be thick.

Put a medium wire mesh strainer over a large bowl. Measure dry ingredients into the strainer then sift into the bowl. (Sifting is optional, it just helps to make a big muffin.)

Melt the butter so it is liquid, but not hot. (You don't want to cook the egg or heat the dough yet.)

Combine the rest of the wet ingredients with the liquid butter. Use an electric mixer or immersion blender. Air in the mixture adds a little height to the finished product.

Pour the wet ingredients into the dry and stir about 14 times to just combine. Overmixing gives the gluten an opportunity to form outside the oven and gluten should do its thing inside the oven.

Fill 8 muffin tins to the brim.

Add crumb topping - as much as you want.

Bake at 375 for 30 minutes.

Let cool 5 - 10 minutes in the muffin tin then move them to a wire rack.
Notes
The crumb topping makes enough for 24 muffins. Refrigerate the extra in a glass container with a snap-on lid. If you are using cold, pre-made crumb topping, remember to bring it to room temperature and "re-crumble" it so you are not putting the cold topping on muffin batter.
*Vanilla bean is a glorious thing. It's sweet, intense and visually compelling with the little black dots, and there's never any chemical aftertaste. My grocery stores rarely have it, and when they do it's quite expensive. So I order it from Amazon.
 (I normally order the Frontier brand, but now their 2-vanilla-beans-in-a-glass-test-tube-product is unavailable.) Look for vanilla bean stored in glass. If there is a plastic bag around the beans, discard the plastic and store them in the smallest glass container you can find. You want plump, juicy, flexible beans.
The best baking season of the year is upon us: now's the time to work with the good stuff!