Jump to Recipe
This post contains affiliate links. Purchasing through them helps support this website.
It's Chili Season In The Midwest
Which means people are looking for a chili recipe that is quick and easy to prepare. BurntPorkChops has you covered. There's no all day simmering, very little slicing and dicing, and only one pot to clean. So simple, it uses a spice kit (Carroll Shelbys Chili Kit
) you can find in either the spice aisle or the chili section of your grocery store, or of course, Amazon.
Put this feeling on your table in under an hour … Night is approaching, you have all your peeps around you, it's been a long day, and there's a warm bowl of richly flavored chili coming … All is right with the world.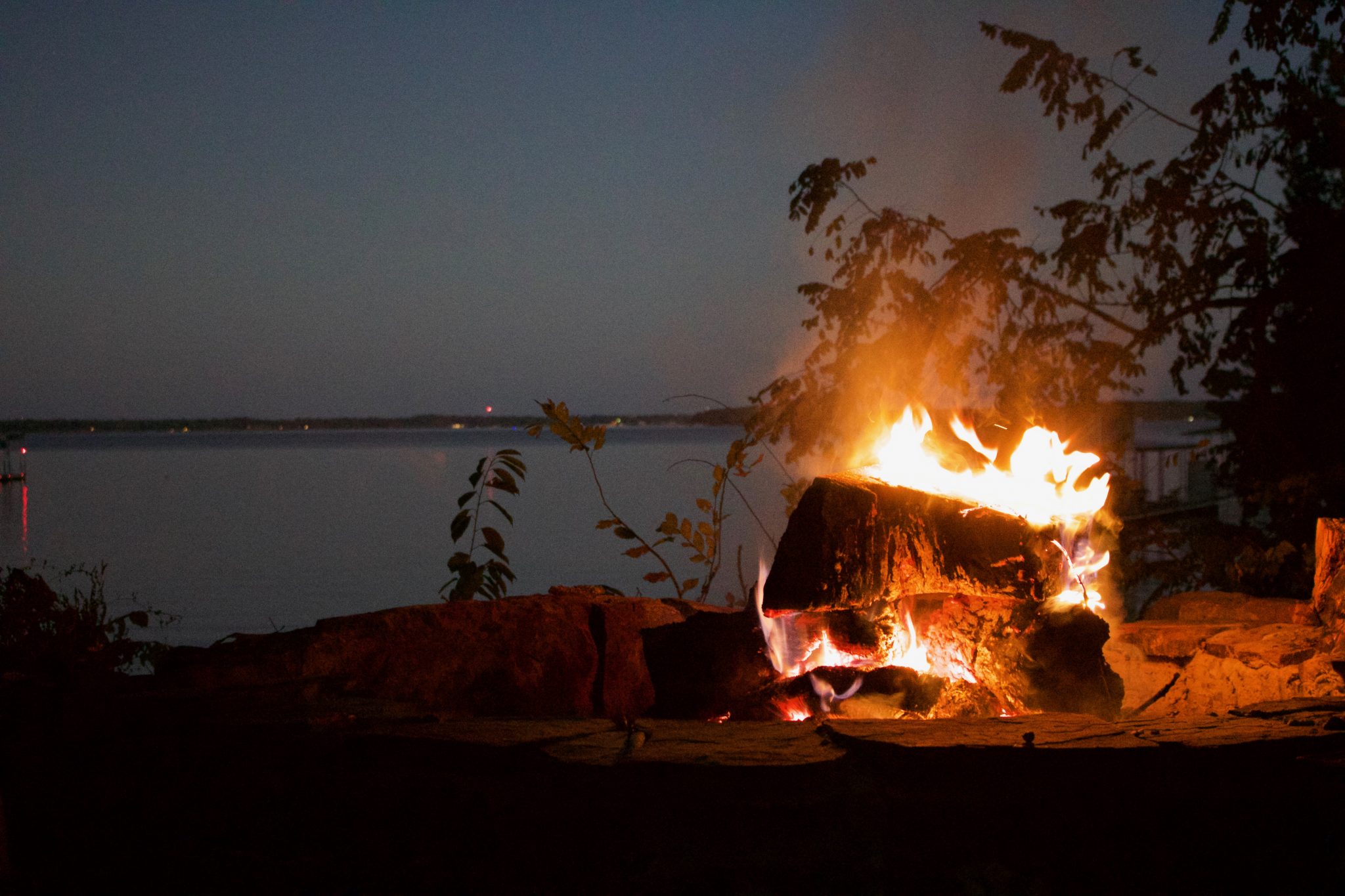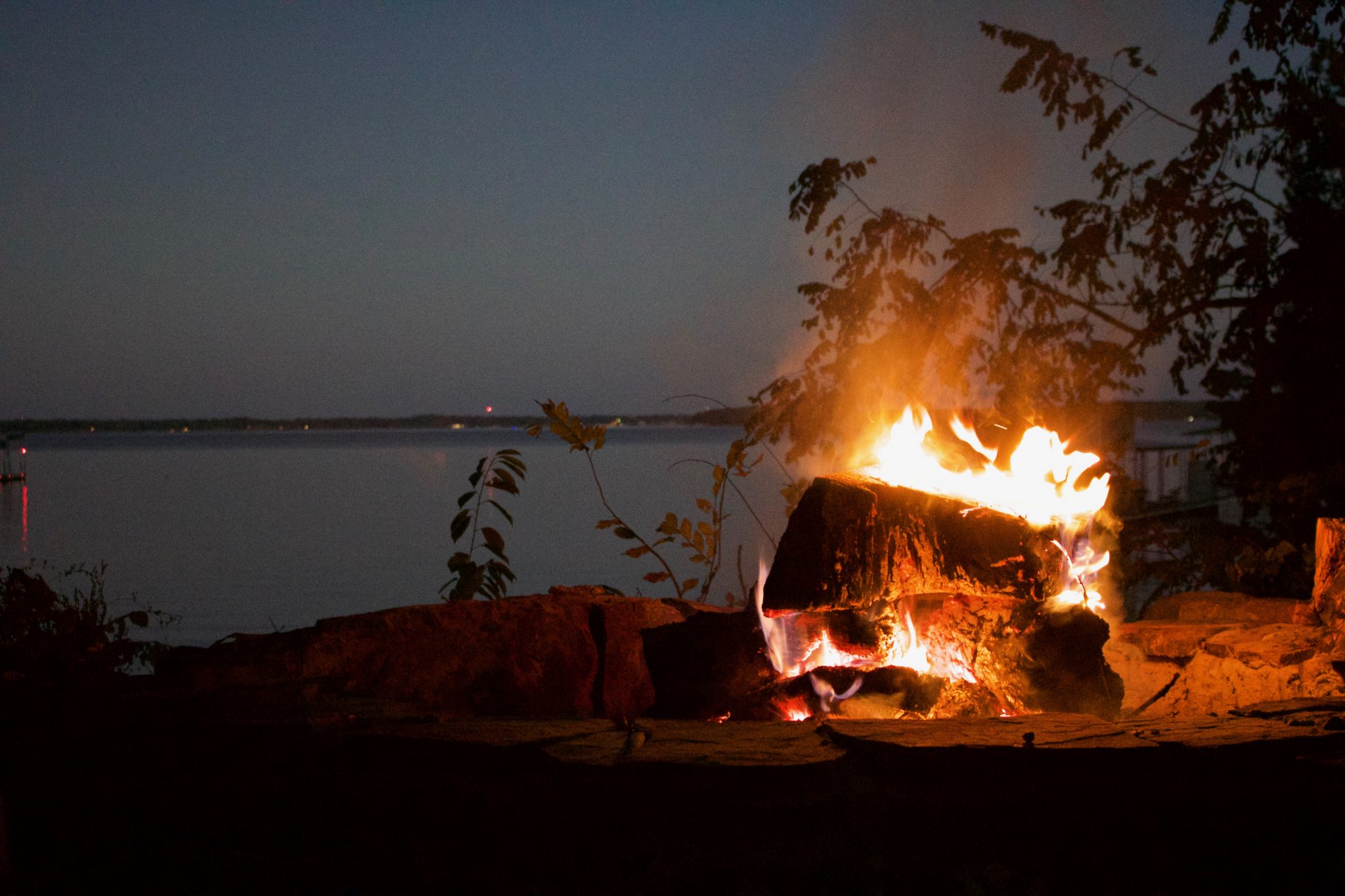 Chili Is The Ultimate "You Do You" Food
You can dial up the heat and dial down the calories any way you like. Scale back on the hamburger, use turkey, Boca crumbles, use tons of beans, add carrots – once you have the basics, it's easy to customize to your changing tastes and dietary preferences. The cozy feeling remains the same.
Case in point: In my youth, I was a no-beans kind of girl and my husband (who's recipe this is) accommodated that by making all meat chili. And we ate it with full-fat Mac and Cheese … Now that I'm older and wiser and it's harder to burn off those calories, he makes the chili with more beans, less meat. (Mac and Cheese is reserved for family events.)
We may eventually move into meatless chili … We'll still use the same kit, it's just that the burger will be replaced with beans and veggies.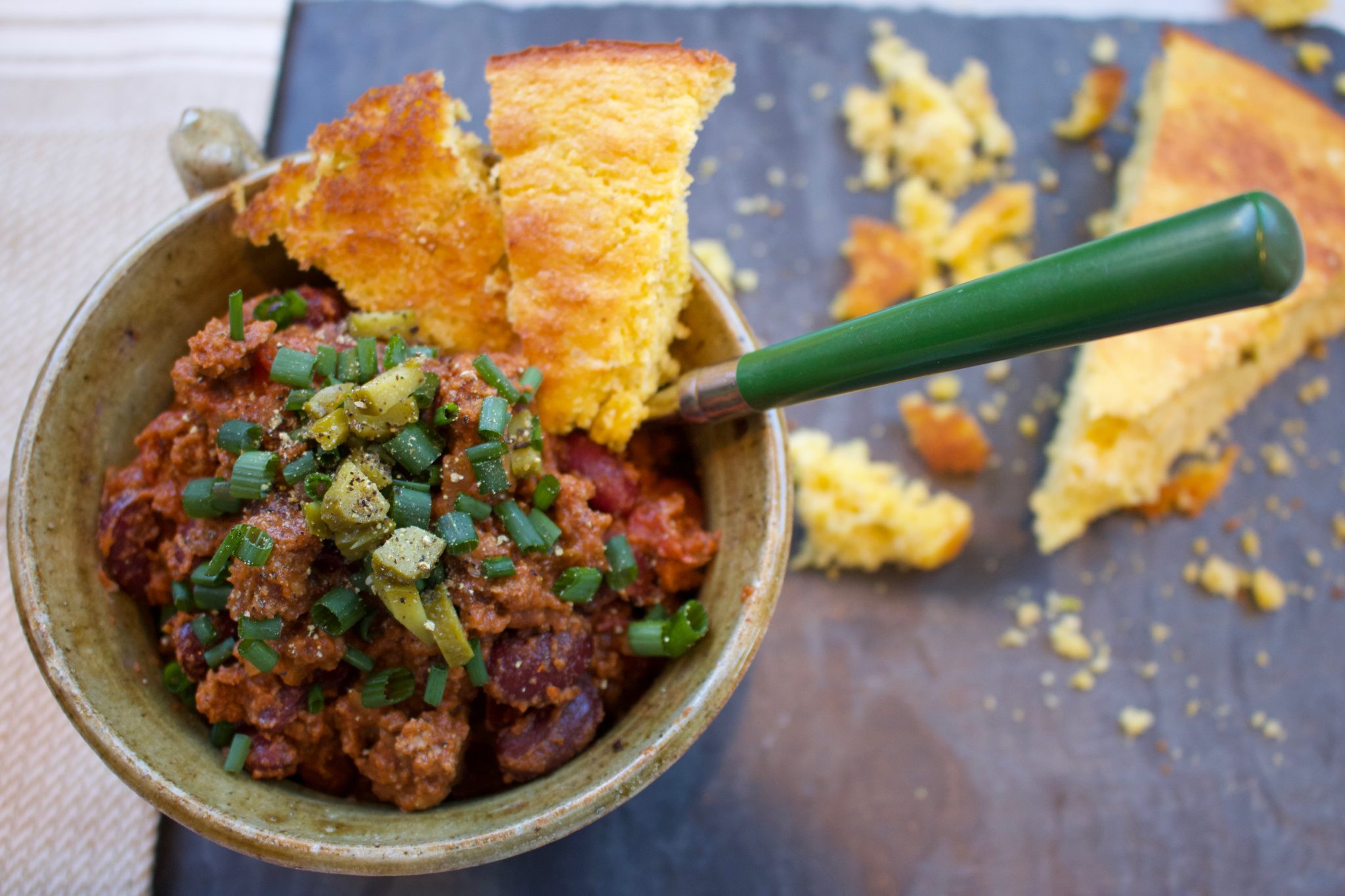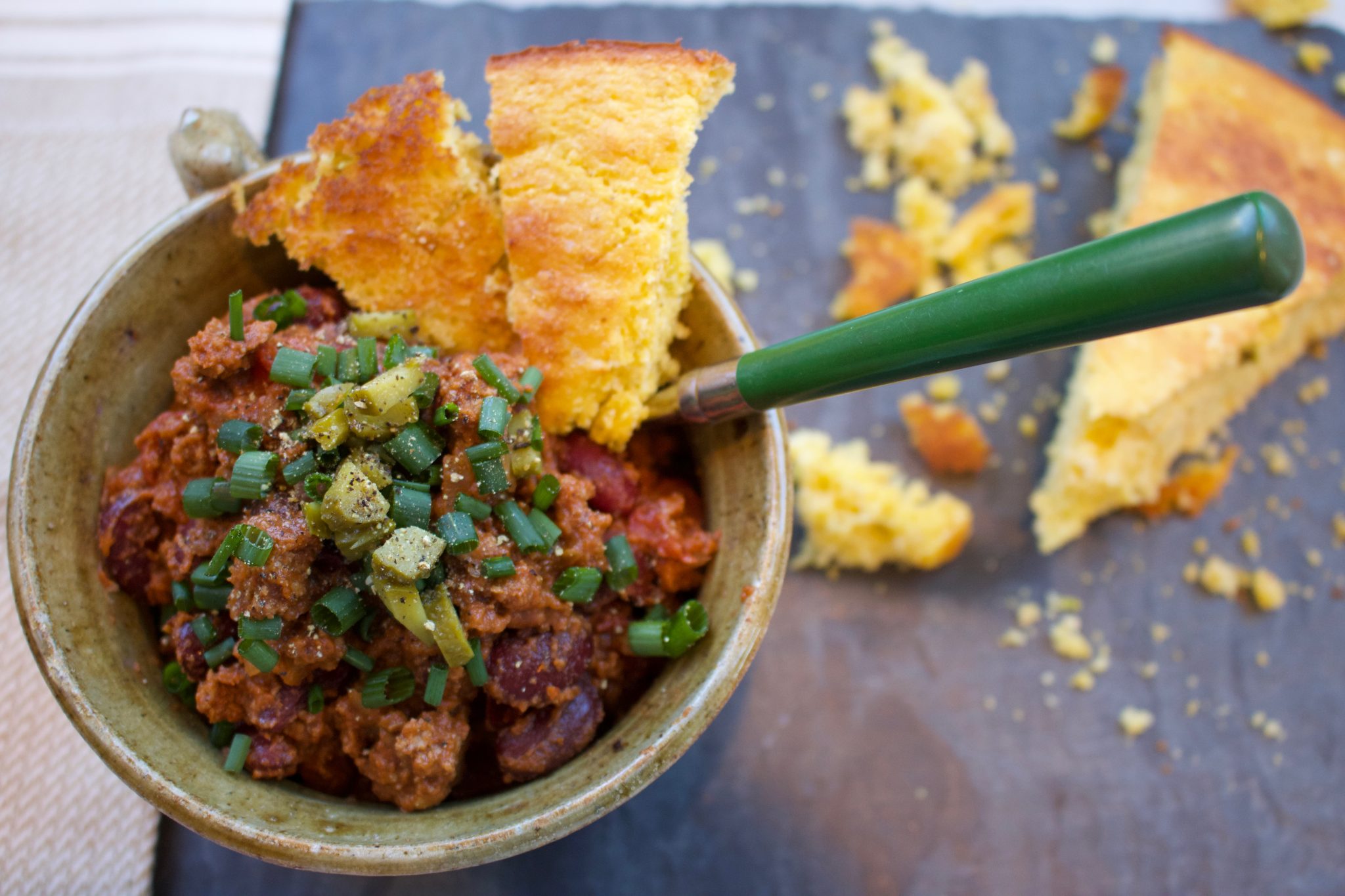 Regarding the chili kit, the spices come in individual packages so I measured them. Turns out the secret to great tasting chili is pretty simple: an obscene amount of chili powder (plus a few other spices) and a little bit of masa. If you are going to make this without buying the kit, try substituting cornmeal for the masa. See the bottom of the post for the measured spices from the Carroll Shelbys Chili Kit
.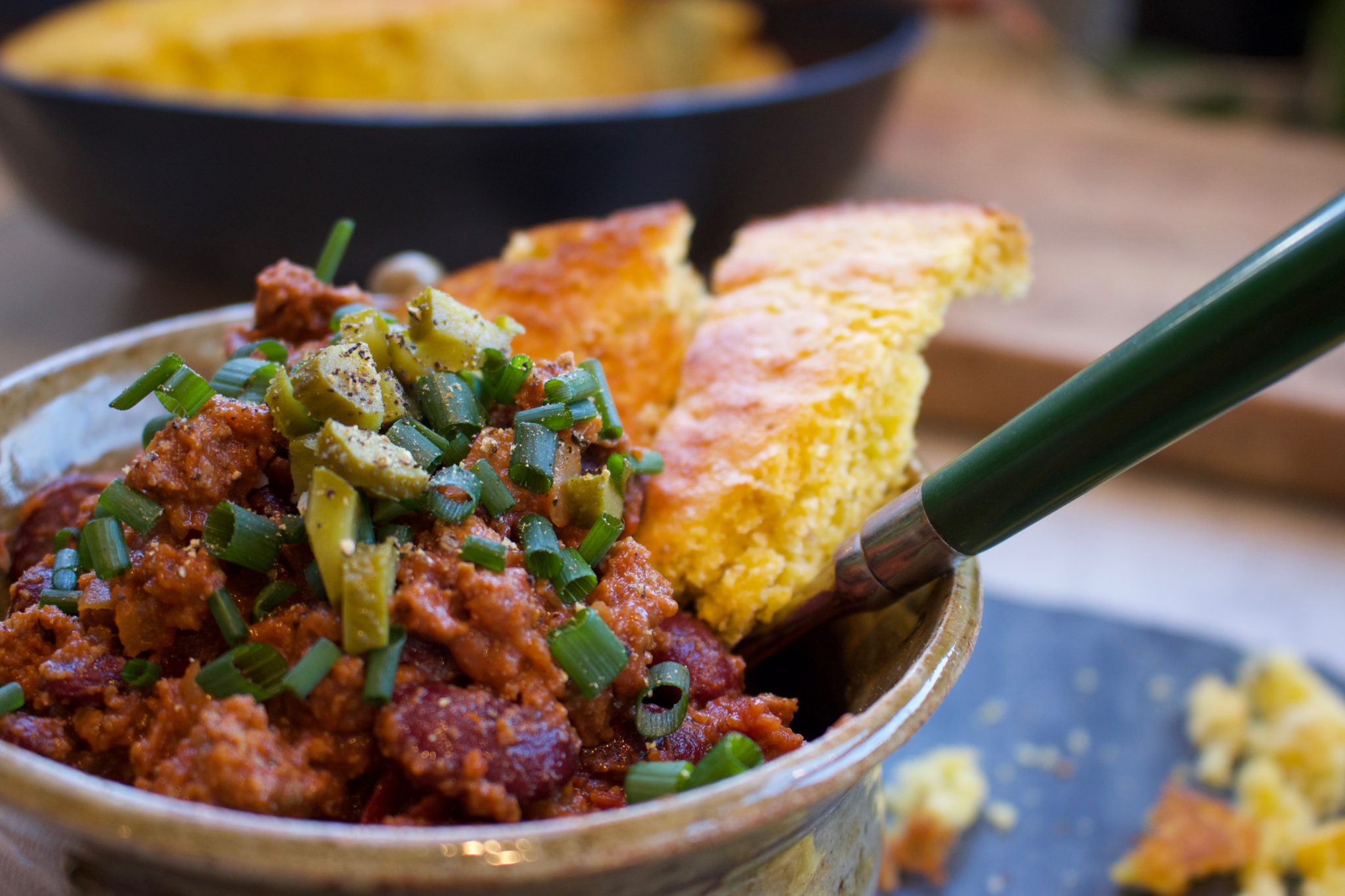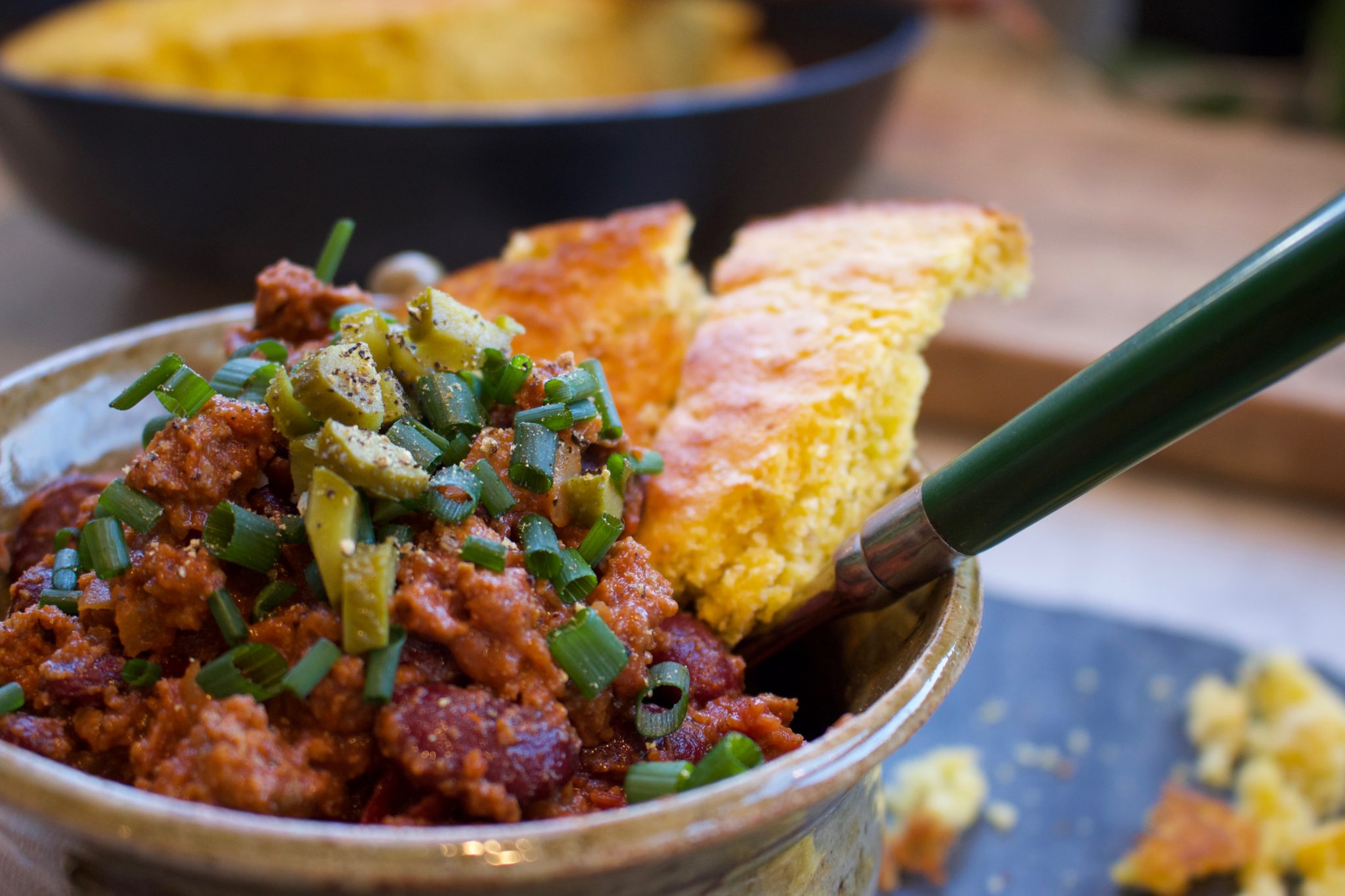 Quick and Easy to Prepare Chili
Brown 2 pounds hamburger meat and a diced onion in a Dutch oven. Drain excess fat. Return the browned meat and onion mixture to the pot, add cans of tomato sauce, fire roasted tomatoes, hot chili beans, and green chiles. Add the spice packets in the Carroll Shelby's Chili Kit. Simmer 15 minutes.
Ingredients
2

pounds

browned hamburger meat

1

onion

diced

2

15 oz cans

hot chili beans

red beans already in a spicy sauce

1

15 oz can

tomato sauce

1

15 oz can

diced fire roasted tomatoes

1

4 oz can

green chiles

1

Carroll Shelby's Chili Kit

Comes in a box in the spice aisle or the chili section
Instructions
Brown 2 pounds of hamburger and a diced onion in a large Dutch oven. Drain excess fat. Return the hamburger/onion mixture to the pot.

Add all the canned goods and all the spices from the Carroll Shelby's Chili Kit.

Mix the packet of masa with 1/3 cup water and add it to the chili.

Cover and simmer 15 minutes.
Notes
I have made this using only Boca crumbles and don't recommend it unless you are a practicing vegetarian. There's a distinct cardboard aftertaste with just the Boca. Your meat-eater people probably won't notice if you use one pound of burger and 1/2 - 3/4 of a package of Boca crumbles instead of 2 pounds of burger, though. 
Garnish with Bread and Butter pickles, diced jalapeños, cheddar cheese, sour cream, or like in my youth, just mix it half and half with mac and cheese.
We always eat this with cornbread, but any rustic, hearty bread goes well with chili.
Carrol Shelby Chili Kit Deconstructed
2/3 c plus 1 T chili powder – plus some amount garlic powder, cumin, oregano, onion powder, and paprika. (All of these are listed before the cayenne pepper and after the salt so somewhere between 1 3/4 and 3/4 tsp.)
1 3/4 tsp salt
3/4 tsp cayenne pepper
1/4 c plus 1 T masa powder.
That's it: the take home? Go to town on the chili powder and find some white masa.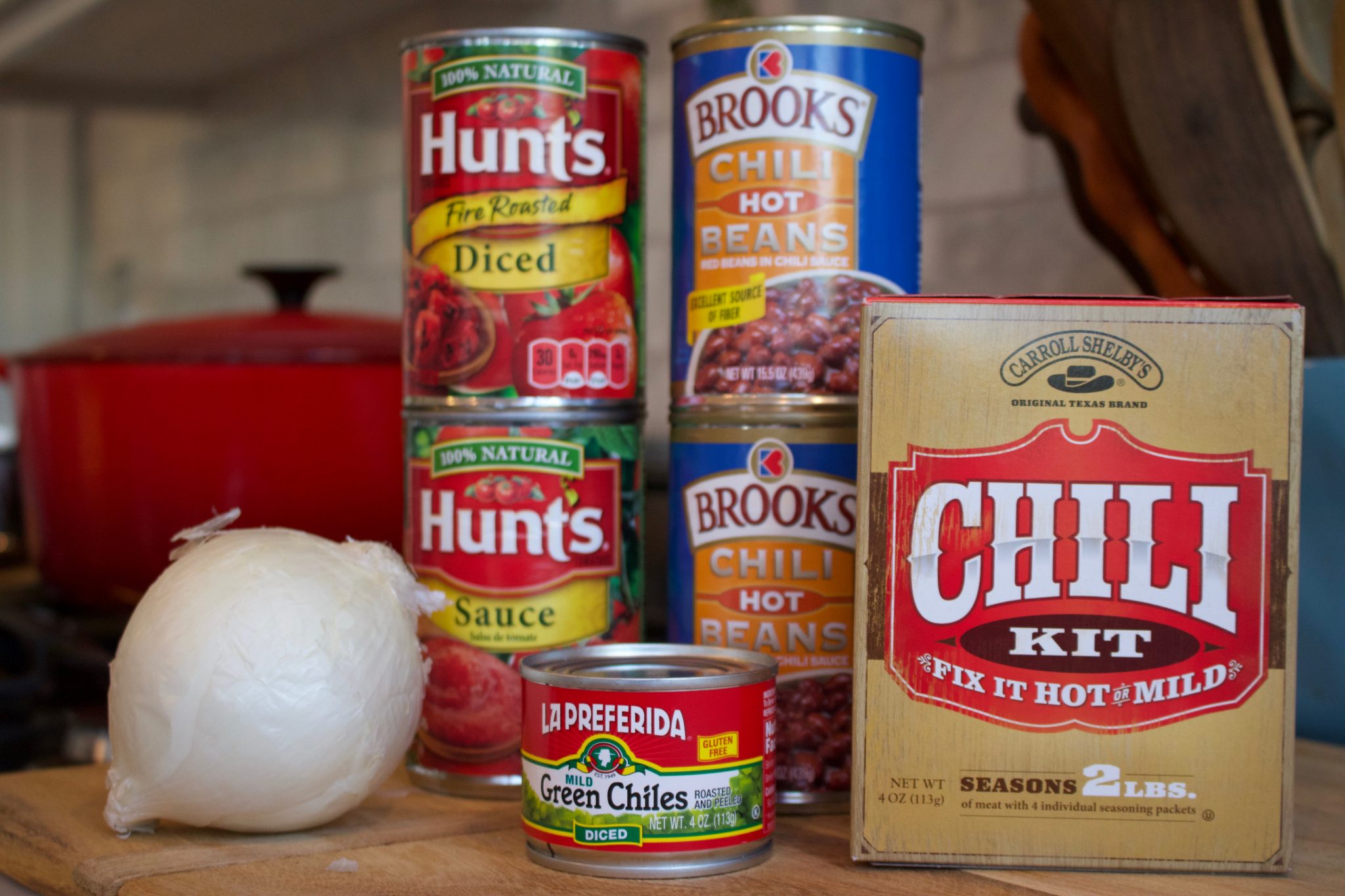 If you have a chili lover in your circle, I'd love it if you would share this post with them. If you make the chili, leave a comment and let me know how it turned out and how you tweaked it to make it your own.