Olive Oil/Balsamic Vinaigrette
January is typically a time when people start eating better – adding more plants, getting rid of processed foods … you know the drill. Making your own salad dressing is a no-brainer, and here's why:
You know exactly what's in it
There are no bizarre "stabilizer" chemicals, shelf-life extending preservatives, refined sugars, poor quality oils, or artificial flavors
You control the amount and kind of fat – and some nutrients, like carotenoids, need fat to be absorbed
You probably already have the ingredients
The clean, bright, fresh taste of a homemade dressing matches the brightness of the salad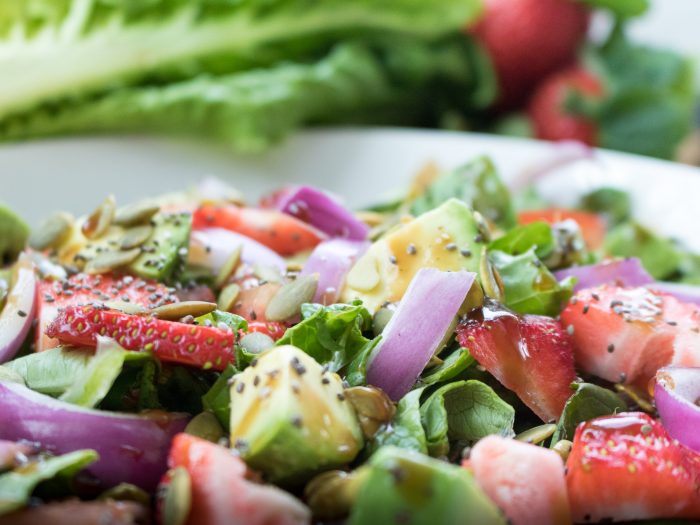 Olive Oil/Balsamic Vinaigrette
This vinaigrette has just 3 ingredients. Three! It's completely customizable with additions like mustard, spices, salt, and pepper. But, you don't need anything else.
Open a bag of prepared salad and start adding your mix-ins:
Fresh fruit
Dried fruit (Craisins, figs, dates …)
Nuts (Almonds, Cashews, Walnuts …)
Seeds (Chia, Pumpkin …)
Avocado
Cheese
Croutons
It's an upscale salad from your kitchen and it took 5 minutes.
Happy January!
Olive Oil Balsamic Vinaigrette
Print
Ingredients
1/2

cup

extra-virgin olive oil

1/4

cup

balsamic vinegar

2

T

honey
Instructions
Put everything into a jar with a lid and shake. It thickens as it sits on the counter.

Recipe Notes
All the ingredients live at room temperature, so I don't refrigerate the dressing. (Also, olive oil turns into a solid in the refrigerator.)
Use this ratio of olive oil/vinegar, then add whatever else you want: salt, pepper, mustard (dry or jarred), minced fresh herbs, minced garlic, onion, ginger, shallots, soy sauce, or Worcestershire sauce ...
My favorite jar for making salad dressing is an Argo Tea bottle. (See the featured image at the top of the post.) I buy that brand because not only is the tea is good, the bottle is perfect for reuse. The label is easy to remove, the mouth is wide and the bottle is narrow where you hold it. It has a good hand.
For more homemade salad dressing recipes look here and here.