Pickled red onions are a thing of beauty.
They have everything: gorgeous crimson color, tangy, assertive flavor, and a delightfully crunchy texture. In short: pickled red onions are the workhorse in many a dish. And they take all of 5 minutes to make.
You just need decent vinegar.
I credit my daughter with inspiring me to figure out how simple they are to make.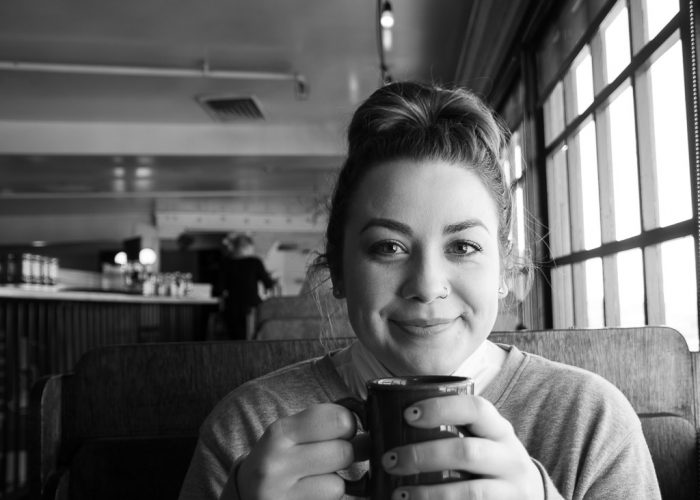 I was visiting her in Seattle and ordered a bagel with cream cheese and lox. Delicious, for sure, but it was the freaking garnish: the pickled red onions that had me really digging in. I made sure each bite had the perfect ratio of garnish to "substance" and when the red onions ran out, I was done eating.
There was still a lot of "substance" left on the plate … but it just wasn't worth the calories without its beautiful crunchy crimson crown.
It was time to master this stunning garnish.
I am a little embarrassed at how simple it is.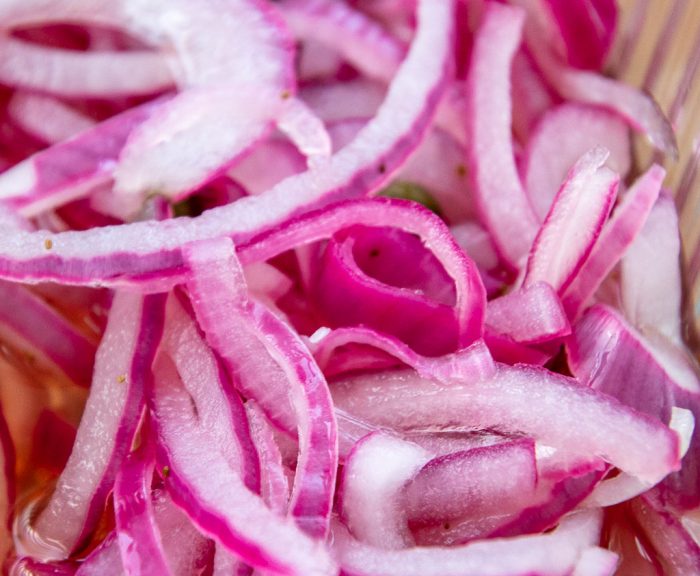 What you need to know.
Vinegar is vinegar is vinegar is vinegar is not true.
Apple cider vinegar is musty-harsh on its own.
Distilled white vinegar is burny-harsh on its own.
White wine vinegar is just right. (I don't always drink alcohol, but when I do, it's white wine. I could be biased.)
All this time I've been using vinegar kind of willy-nilly. Sure, rice wine vinegar was reserved for Asian dishes and balsamic usually went into Italian or beefy dishes, but past that, vinegar was vinegar was vinegar was vinegar … Well, not anymore.
My next batch of pickled red onions will be made with citrus champagne vinegar. 😀
And my apologies to the apple cider with The Mother Fans, you guys know who you are …
For more info, check out the vinegar tutorials from Food and Wine and the kitchn.
Pickled Red Onions
Thinly slice some red onions - skip the par-boiling/hot water step if you are short on time or if you want a crispier final product. Dissolve the spices in the vinegar and add the onions to the mix. Let chill at least 20 - 30 minutes.
Ingredients
water

to parboil/heat the sliced onions

totally optional step

1

whole

very thinly sliced red onion

3/4

cup

white wine vinegar

or vinegar of choice

1/2

tsp

Kosher salt

1/2

tsp

powdered stevia or sugar

1/2

tsp

whole yellow mustard seeds

1/2

tsp

celery seed

1

tsp

rinsed capers

5

whole

black pepper corns
Instructions
Combine the salt, sugar, spices, and vinegar in the glass container you are going to store the onions in.

Thinly slice a medium red onion.

Bring a few cups of water to a boil and have a sieve ready. When the water is boiling, toss in the thinly sliced red onions and immediately drain them through the sieve. The intent is to soften/wilt them just a little. Put the wilted and still warm onions in the vinegar and spice mixture and refrigerate until ready to use. The heating step is optional. The onions will wilt a little over time anyway. If you are going to use them as a garnish immediately, do the heating step. If you intend to garnish salads or something over the next few days, skip the heating step.
Notes
This same vinegar/spice mix works well with thinly sliced red cabbage.