There Was Always A Pan Of These In My Mom's Freezer
Now that I'm in the fall of my life, I have a deep and humbling appreciation for my mom's ability to seemingly, effortlessly, regularly, pull a pan of these brownies out of thin air. It's not that the brownies are a complicated huge deal to make, it's that she clearly, was always making them.
Meaning, she was thinking about her people and preparing for them relentlessly … Something women of her generation pretty much did without any acknowledgment from anyone, anywhere. Something much of the world's women still do.
So, as a tribute to those unsung heroes of generations past and present, consider letting Blond Brownies with Icing Grace* your Mother's Day table. Use the family time to reflect and appreciate the sacrifices, both forced and willingly assumed, by mothers and caregivers of any gender, everywhere.
And consider checking out the Global Fund for Women – because, while it's unlikely that Blond Brownies With Icing will dramatically improve the world, it's entirely possible that when empowered to lead, the people who know how to take care of people will do a magnificent job.
At a minimum – it's certainly time they get their shot. 😉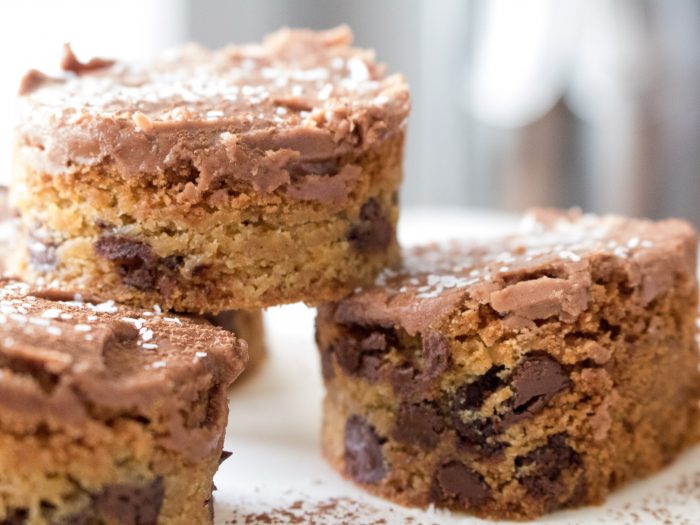 Ingredients
For The Brownies
1 1/2

sticks

room temperature butter

salted or unsalted butter makes no difference and save one of the wrappers so you can use the greasy side to help spread out the batter

2 1/2

cups

packed brown sugar

or use a one-pound box

3

eggs

well beaten

2 3/4

cups

flour, sifted

measure the flour and then sift it*

1

bag

semi-sweet chocolate chips

or any combination of chocolate equal to 11 - 12 ounces

1

cup

chopped nuts

100% optional.

2

tsp

vanilla extract

or scrapings from 2 vanilla beans

2 1/2

tsp

baking powder

1/2

tsp

salt
For The Icing
5 - 6

T

room temperature butter

original recipe says "oleo" - which is margarine, which we now know is a food-like substance- not actual food 😉

3 1/2

cups

powdered sugar, sifted

or use a one pound box

2

T

cocoa powder, sifted

5 - 6

T

warm milk
Instructions
For The Brownies
Set out the butter and eggs to come to room temperature.

Cream the room temperature butter and brown sugar until a smooth, thick, uniform texture develops. Use the paddle attachment on a stand mixer, which is the triangle-looking one.

With a fork, briefly beat the eggs and add them to the butter and sugar mixture in 3 increments. Mix after each addition.

Add the vanilla to the butter, sugar, eggs and beat until the mixture morphs into a smooth, thick batter that is light yellow in color and falls in clumps from a spoon.

Measure the flour and sift it into a large mixing bowl. Sift in the salt and baking powder.*

Add the dry ingredients to the butter, sugar, eggs and vanilla mixture 1/2 - 1 cup at t time. Gently stir after each addition, don't overmix. The batter will be very thick.

Add the chocolate and nuts all at once and stir to evenly distribute.

Divide the batter into two 8 x 8 metal pans. Use the butter wrappers to help spread it around evenly. Place the pans on a baking sheet and bake 30 - 35 minutes at 350. When done, the top will be a shiny golden brown, the edges will be pulling away from the sides of the pan, and a toothpick comes out clean.

While the brownies are baking, clean and dry the mixer. These brownies are iced immediately upon removal from the oven.
For The Icing
Put 6 T room temperature butter in the stand mixer and blend it up a little with either the paddle or whip attachment.

Add the sifted powder sugar and cocoa in increments, stirring after each addition. Go slowly so powdered sugar doesn't fly all over the place.

Heat 5 - 6 T milk and add the warm milk one T at a time while the mixer is slowly running. Continue to add milk until you get a thick, spreadable consistency

Ice the brownies while they are still warm.

Place iced brownies on a cooling rack.
Notes
*Back in the day when flour was not sifted millions of times before it left the factory, you would sift flour into a bowl and then measure 2 3/4 cups. Today, flour comes pretty well sifted so you can measure out 2 3/4 cups and then sift that measured amount.
Surprisingly, disposable 8 x 8 baking pans work the best for this recipe. Don't use glass because it's hard to get a crispy edge in a glass pan. 
These brownies freeze really well.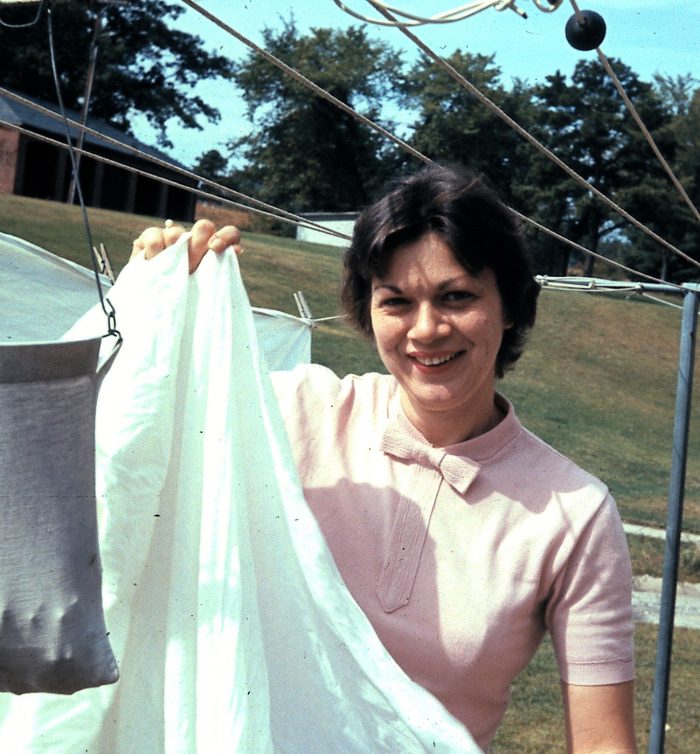 *Grace is my mom's name.