This is the best cheesecake recipe on the planet. Yes: it's a bold statement. The truth often is.
But I can't take credit for it. That goes to my BFF, Nathanial Apatov. He's the mastermind who improved a traditional cheesecake recipe from Junior's restaurant by substituting one block of cream cheese with whole milk ricotta.
Here's what my work peeps said about this dessert:
That cheesecake was … it was … Next. Level.

Did you make that? That's marriageable cheesecake!

I'm going to take off my clothes and roll around in that cheesecake …

This is heaven on a fork …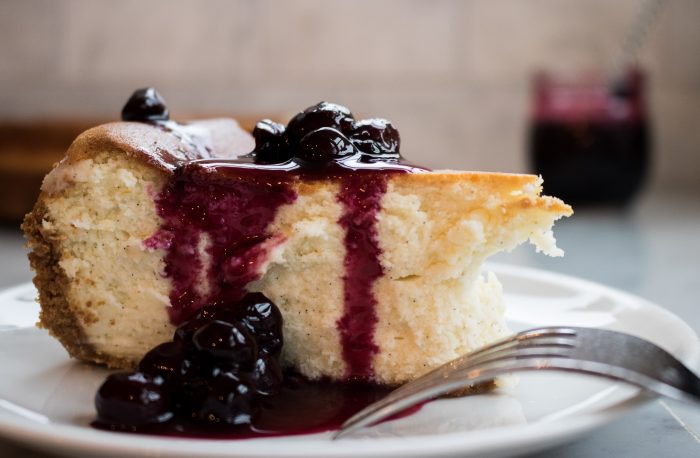 If those comments aren't enough, you should know this: I did a side-by-side comparison of this recipe and a copycat Cheesecake Factory recipe.
I never bothered to photograph the copycat cheesecake, and it wasn't a bad dessert. In fact, it was a good dessert.
It just wasn't a next-level-heaven-on-a-fork dessert.
However, the copycat cheesecake recipe gets props for the crust. It's the ground almonds that make the difference. The "real" copycat calls for some ground up vanilla wafers as well, which sounds awesome. I just didn't have any, so … graham crackers and ground almonds it was.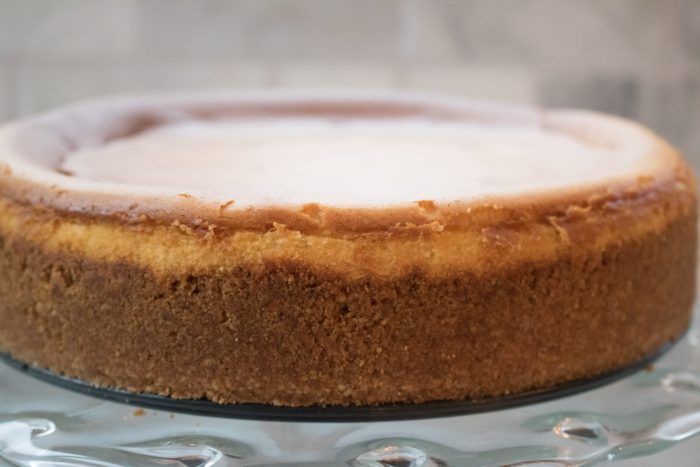 Ultimate Cheesecake
This is a labor of love. Make the crust. Make the cheesecake filling and bake the cheesecake in a water bath. Refrigerate for 4 hours or overnight. Make the sauces and let them cool. Serve.
Ingredients
For The Cheesecake Crust
1

cup

finely ground graham crackers

About 7 - 8, or one sleeve full-size graham crackers put in a food processor and ground up

1/2

cup

whole almonds, finely ground

Measure 1/2 cup almonds and then grind them in a food processor

2

T

brown sugar

pinch of

cinnamon

pinch of

salt

2 - 3

T

melted butter
For The Cheesecake Filling
3

8 - ounce

packages of real cream cheese

Don't use light cream cheese.

2

eggs

1 1/3

cups

whole milk ricotta

Don't use reduced fat.

1 2/3

cups

sugar

3/4

cups

heavy whipping cream

1/4

C

Cornstarch

1

T

vanilla extract

or the scrapings from 2 - 3 vanilla beans
Instructions
To Make The Crust
Grease a 9-inch springform pan with butter.

Blast the graham crackers and almonds in a food processor until they are reduced to small crumbs. If you don't have a food processor put them in a ziplock baggie and pulverize with a rolling pin.

In a medium bowl, thoroughly combine the ground graham crackers, ground almonds, cinnamon, sugar and melted butter.

Pour the crumb mixture into the prepared springform pan and patiently press it out evenly over the bottom and up the sides of the pan. Grease the bottom of a glass and use that to press it. It will go about 1 1/2 - 2 inches up the sides of the pan.
To Make The Cream Cheese Filling
Put one 8-ounce package of cream cheese, 1/3 cup of the sugar, and all the cornstarch in a large bowl and beat with an electric mixer on low until creamy. This takes about 3 minutes.

With the mixer still on low speed, beat in the rest of the cream cheese and the ricotta cheese. Occasionally scrape the sides and bottom of the bowl.

Increase the mixer speed to high and beat in the remaining 1 1/3 cups of sugar. Beat in the vanilla. Add the eggs, one at a time. After each egg beat well and scrape the sides of the bowl.

Reduce the mixer speed and blend in the heavy whipping cream. Stop mixing as soon as the heavy whipping cream is combined.

Gently spoon the filling into the prepared 9-inch springform pan.

Place the springform pan in a large shallow pan containing hot water. The hot water should come up the sides of the springform pan about an inch.

Bake one hour at 350. The cheesecake is done when the center just barely jiggles when you shake the pan.

Cool on a wire rack for an hour.

Cover with plastic wrap and refrigerate until it's completely cold, about 4 hours. Overnight is best.

Remove the sides of the springform pan and slide the cake onto a serving plate or cake pedestal.

Cut the cake with dental floss instead of a knife. Once you make a "cut" with dental floss, you may still need a knife to cut through the crust.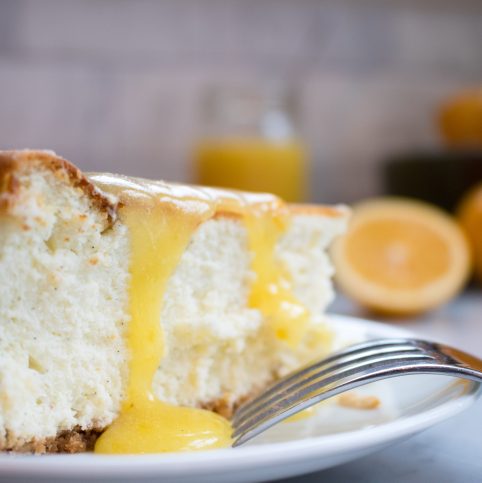 Lemon Curd
Curds are fruit-flavored liquids that are thickened by the addition of eggs. (The proteins in the eggs coagulate when heated.)
Ingredients
4

eggs

2

cups

sugar

3

T

lemon zest

1

cup

unsalted butter

2/3

cup

fresh lemon juice
Instructions
In a medium saucepan melt the butter over medium heat.

Add 2 cups sugar, 3 T lemon zest, and 3/4 cup lemon juice to the melted butter. Heat and cook until the sugar melts, about 2 - 3 minutes.

Beat the 4 eggs in a medium bowl until frothy.

Slowly add one cup of the lemon juice/butter mixture to the frothy eggs and stir. Then pour the lemon juice/butter and eggs into the saucepan.

Cook and stir 7 - 9 minutes until it thickens.
Notes
Use for filling for pies, rolls, as a spread on bread, or a sauce. It is fantastic on English muffins. Makes one quart.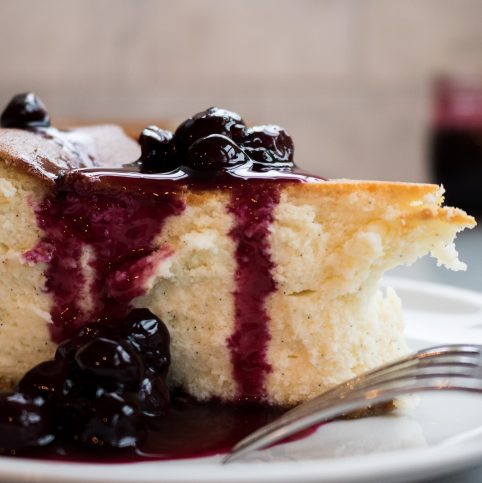 Blueberry Sauce
Combine the sugar, cornstarch, and salt in a small saucepan. Gradually whisk in the water until smooth. Add blueberries, lemon juice, and lemon zest. Bring to a boil, stir constantly, and cook 2 - 3 minutes or until thickened. Makes 3/4 cup.
Ingredients
1

cup

fresh or frozen blueberries

Plus more for garnish

1/4

cup

sugar

1 1/2

tsp

lemon juice

1/2

tsp

lemon zest

1/4

cup

water

1

tsp

cornstarch

pinch

salt
Instructions
In a small saucepan, combine the sugar, cornstarch, and salt. Slowly whisk in the water until smooth.

Add the blueberries, lemon juice, and lemon zest.

Bring to a boil over medium heat, stir constantly. Cook until thick, about 2 - 3 minutes. Some berries will remain whole.
Notes
My thanks to Taste of Home for this recipe.